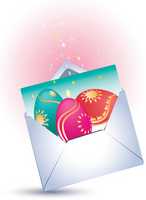 All Free Printables
Welcome to the new look at AllFreePrintables.
Please bookmark our site and revisit from time to time; many changes are planned, from a roll out of the redesign throughout our free printables archive - and including many additions of free printable greeting cards, bookmarks, paper toys, templates, printable holiday decorations and more.
PRINTABLE HOLIDAY CARDS, DECORATIONS and MORE
Valentine Printables

Print and cut out Valentine treat baskets, promise coupons, 16 Valentine hearts, an activity booklet on one page, romantic bookmarks, and Valentine word search puzzles.
---
Christmas Printables

Print and assemble Christmas ornaments, a 3D paper snowman, santa and choir singers, paper trees, decorations, gift tags and Christmas cards.
---
Free Halloween Printables

Put Halloween treats in tiny printable baskets or treat bags; print full-color or ready-to-color Halloween masks, activity booklets, and Halloween bookmarks.
---
Free Easter Printables

Fine art greeting cards for Easter, with envelopes; paper Easter egg stands or Easter bunnies to hold your Easter eggs; printable Easter baskets.
SPECIAL OCCASION PRINTABLE PROJECTS

Printable St. Patrick's Day Cards
Two printable St. Patrick's Day greeting cards, with matching printable envelopes.
---
Mother's Day Printables

Five free printable Mother's Day cards with a matching envelopes; Mother's Day bookmarks, plus a Mother's Day coupon book with step-by-step printing and assembly instructions.
EQUINE PRINTABLES
Free Printable Horse Birthday Cards

Free printable birthday cards with a horse theme. Each equine card prints on one page; matching printable envelopes as well.

Printable Equine Christmas Cards and Printable Christmas Horse Bookmarks
Printable equine four-fold Christmas cards and bookmarks for horse lovers.
---
PRINTABLE BOOKMARKS and COUPONS
Free Printable Bookmarks

Printable bookmarks, with sketches by Elora, Ontario artist John Fisher, in a folded design.
---
Printable Chore Coupons

Help Mom or Dad and solve your gift-giving by making a chore coupon booklet with 12 original free printable designs, or six illustrated blank coupons for ideas of your own.
---
PRINTABLE RECIPE CARDS, CHECKLISTS and MORE
Kitchen Printables

Free printable recipe cards sets with matching printable gift tags; ideal for giving homemade food gifts.
---
Printable Checklists

Free printable check lists to help organize your grocery day or school day (with spelling and math lists), "To Do" lists, or printable blank lists just to help you remember the small stuff.
---
Garden Seed Packets
Four sets of small printable seed packets for your saved garden seeds.