Free Chore Coupons to Print!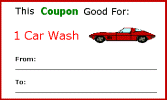 Chore Coupons
Make a booklet of printable chore coupons for dad, or jobs that you can do for mom -- or print out our chore coupons for anyone special in your life to whom you would like to give the gift of your time and work.
We have two pages of free printable chore coupons to print for specific chores. And we have a page of blank coupons, as well, for you to fill in with the chores or promises of your choice. Each image has six coupons to print out on one page. Just click on the thumbnails below to select the group of 6 chore coupons that you want to print.