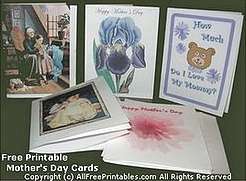 Free Printable Mother's Day Cards
These free printable Mother's Day cards for kids and adults are a four-fold (sometimes called quarter-fold) design. They print on one page, which is then folded into quarters for stability.
Although you can get good results with these cards with most printer setups, I'd select "Fit to Page" or something similar, if this is offered on your computer. "Fit to Page" printing seems to work well on the Windows XP and Windows 7 computers, eliminating empty margin space around each page.
If you save or download the image and then print, I'd open the image in Windows Paint and use the "Print Preview" option before printing. This preview is fairly accurate, so you can adjust preferences on your printer if things don't look right --
before
printing out the card images.
Click on the thumbnail of the card that you wish to print:

Sweetest Sounds Card
Fine art mother and child image, repeated on the inside with the quote by William Goldsmith Brown:
"The sweetest sounds to mortals given are heard in mother, home, and heaven."

Pink Dahlia Card
Beautiful pink dahlia on the cover, with a simple "I love you" inscription inside.

Teddy Card
A card for children to give to mom, "How Much Do I Love My Mommy?" with an image of teddy's outstretched arms on the inside, saying "This Much."

Blue Iris Card
My favourite card, with a beautiful iris on the front and a Kahlil Gilbran quote inside:
"Mother: The most beautiful word on the lips of mankind."

Learning to Knit Card
Another fine art print, with Grandmother teaching her granddaughter how to knit. A simple "Happy Mother's Day" message on the inside makes this card suitable for anyone.
We also offer a matching
free printable envelope
which should fit the cards exactly. This free printable envelope has been a challenge for me! Essentially, you're trying to make a card printed on one computer page (folded in half, and in half again) fit into an envelope printed onto another page. There is not much room for error. I printed many unacceptable envelopes before settling on this final result, which should work for most people.
One caution: if you leave the printer setup as "Fit to Page," which is best for the cards, your envelope may be a little larger than needed. If so, use Windows Paint and the Print Preview feature to help ensure the envelope will print correctly.
---
Printable Mother's Day Bookmarks




If you are gving someone a special book for Mother's Day, add a printable bookmark. We even have a special bookmark to print for Grandma!
Just click on the thumbnail bookmark design you would like print to open the full-size bookmark for printing.
Free Printable Mother's Day Coupon Books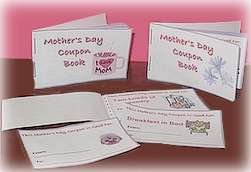 Show how much you love someone special on Mother's Day.
Choose from a free printable Mother's Day coupon book for mom, with an "I love Mom" coffee mug on the front -- or print one of three other cover themes, suitable for giving to your stepmother, aunt or grandmother.


Printing the Coupon Book Covers:
Choose a cover and click on the thumbnail to print the full size image.


Printing the Coupon Pages:
To make the coupons for your Mother's Day booklet, print out one or both of the coupons pages. The first page has six coupons; one each for breakfast in bed, mowing the lawn or gardening, a chore of your choice, taking out the garbage, two loads of laundry and vacuuming.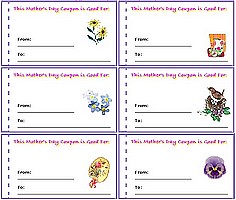 The second page is illustrated, but there is blank space for you to write in the chores - or maybe you'd like to make these coupons "Good for a Big Hug..." or "Good for a Personal Manicure..." or similar ideas.
Just click on the thumbnail of the coupon page that you wish to print.
Mother's Day Coupon Book Assembly:
1. Print out a book cover and one or both pages of coupons then cut them out.
2. Place the coupons in the order that you wish to have them in the book.
4. Put the stack of coupons inside the book cover with the left edge of the coupons placed right up against the inside fold line.
5. Close the book cover. Staple everything together with two staples placed close to the folded edge of the book cover, as shown in our photo.


Please respect our copyright and do NOT link directly to these images. Please share a link to this web page instead: https://www.allfreeprintables.com/mother/index.shtml