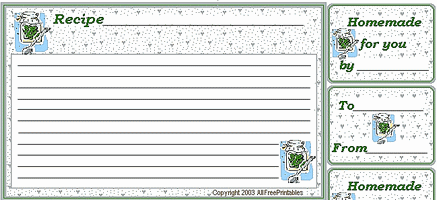 Free Printable Recipe Cards
When you taken the time and trouble to make homemade food gifts, it's nice to complete your presentation with a copy of the recipe that you used to make it. Here we provide some free printable recipe cards, with matching printable tags that are perfect to glue to your canned pickles or preserves, or to add to a basket of home-baked food gifts.
Don't forget to print out some extra recipe cards for yourself; after all that work, don't you deserve a free printable treat too?
Free Printable Recipe Cards and Gift Tag Sets
Each one of our recipe cards sets will print two recipe cards and six matching printable gift tags on one page. Just click on the thumbnail sample photo to access the full-size printable design.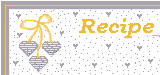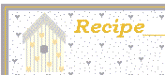 Country Kitchen Recipe Cards:
Choose from a bird house or blue hearts theme.


The fruits of summer:
Printable recipe cards for pickles and jam!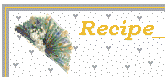 Decorative Fan:
Stylish, and suitable for any recipe.
You may also be interested in our free printable shopping lists!