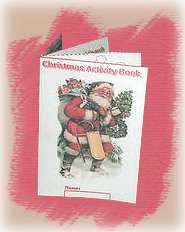 Printable Christmas Activity Book
This free printable Christmas activity booklet prints on one sheet of paper, but contains a variety of Christmas activities for children. These include a Christmas crossword, Christmas maze, spot the difference pictures, Santa coloring page and Christmas word search.
The assembly trick is in the folding - just follow our step-by-step photos to show you how!
1. First, Print the Christmas Activity Book. The image may take a minute or so to load completely. The booklet is designed to print on one page with most default settings, so you should not have to adjust the page margin settings.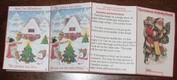 2. Cut the book out. With sharp scissors (manicure scissors work well), carefully cut along the broken line in the center of the book. Fold the book in half, so that you place pages two to five on one side (shown in photo on the left), and pages 6 and 7, plus the front and back covers, are on the other side.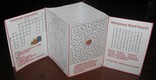 3. Open the book as shown in the photo at left. Crease the pages in the middle so that they form a diamond or square shape in the middle of the book.

4. Hold each end of the book and push them together gently, so that the diamond or square shape in the middle collapses and the correct positions for the pages can be seen. Reinforce the folds by pinching each one between your fingers and running your fingers along the crease to sharpen it. Make a sharp crease on the book's "spine" which is the fold between the front and back cover.

5. The Christmas Activity Book can now be opened and read. Enjoy!