Printable Halloween Baskets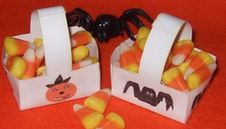 Printable Halloween Baskets
Two printable paper baskets for Halloween, suitable as Halloween party favors or to mark place settings at your table.
You will get one of each design - two baskets - on each printed page.
The Halloween designs on these paper baskets are based on two free Halloween crafts at our sister site. If you wish to make the matching crafts as well, see either
CD Jack O'Lantern
or
Egg Carton Bat
.
Free Printable Halloween Masks or Coloring Pages
Here's a free printable Halloween Jack o'Lantern mask, a paper clown mask and a butterfly mask.
Choose from ready-to-color masks, which also work as coloring pages, or a full-color version of each mask: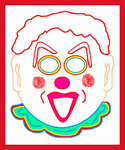 Full-color Butterfly Mask
Ready to Color Butterfly Mask
Full-color Jack o'Lantern Mask
Ready to Color Jack o'Lantern mask
Full-Color Printable Clown Mask
Ready to Color Clown Mask

You will also need scissors, a length of elastic to fit snugly around your head, plus three inches, and a stapler to assemble the mask.
- Print the mask of your choice on card stock, or heavy paper, and cut out. If you print the blank version, color and decorate the mask as desired.
- Cut out the holes for eyes.
- On the clown and Jack O'Lantern, make two small slits, where indicated by a " | " mark, on either side of the eyes.
- Thread about 1-1/2" of the elastic through the front of one of the slits. Double this over the elastic at the back and staple the two thicknesses together. Repeat on the other side.
- For the butterfly, punch holes through the small grey circles on each side of the mask then attach elastic cord.

Printable Halloween Activity Booklet
The
Mini Halloween Activity Book
also prints out on one page. Click on the photo at right to preview or print; the directions for folding and assembly are the same as shown for the
Christmas Activity Booklet
.
You could leave also leave the puzzles as a single printed page and use it for homeschoolers or students to cut and paste, or make a few for favorite trick or treaters!
The book is small, but packed with Halloween activities, including a Spot the Difference game, Halloween Word Search, Halloween Word Scramble, Halloween Maze, plus Shadow Play instructions which show how to make 6 shadow animals on the wall -- a great Halloween party activity to play with a flashlight (or candle) in a darkened room.
Printable Halloween Bookmarks and Treat Bags
Our matching Halloween bookmarks and Halloween treat bags print out with one small treat bag and two bookmarks per page.
The treat bags are large enough to take a folded bookmark, the assembled activity book (see below) and small treats like Halloween erasers, stickers, confetti or candy. For more selection, see
Halloween bookmarks
at AllFreeCrafts.com.
Choose the Halloween bookmark and treat bag that you wish to print: