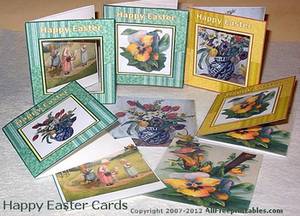 Free Printable Easter Cards
Copyright © 2007-2012 Jane Lake
Allfreeprintables.com All Rights Reserved
Printable fine art greeting cards to make for Easter, with a choice of three designs and two border colors.
You'll get two cards of each design printed on one page of card stock.
We also have free printable envelopes to fit the cards which also print two to a page so - for the price of one piece of cardstock, a piece of paper and some computer ink, you can print two high-quality Easter cards ready to fill out and mail. Enjoy!
How to Print Your Easter Cards:

1.
Choose Your Card:
Decide which Easter card you want to print and click on the thumbnail for that card. The full-sized image, featuring two cards - one on a green background and one on a gold background, will appear on your screen.

2.
Print the cards:
You can preview the print image to make sure it will print correctly with your printer settings. Insert card stock in your computer printer and click the Print command on your computer.

3.
Choose the Variation:
It is possible to make several different variations of the Easter cards. Select the option you prefer from those shown below and follow the directions for that variation.
Easter Card Variations
Shiny Easter Card for Mailing
This version looks like a store bought card with the addition of a clear plastic sheet protector cut down to frame the card by about a quarter of an inch all around. You can cover two cards like this from one sheet protector.
You will need to cut off the last third of the card (use the picture as a small notecard or gift tag) then fold the card in half and insert it inside the plastic cover. Glue should not be needed as friction holds the card in place.
Cut out, print and glue together the
free printable envelope
for mailing.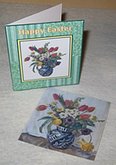 Plain Easter Card
(shown at right)
This is the simplest version, with the inside left blank. Just cut off the last third of the card and use this image as a small notecard or gift tag. Fold the card in two and write your message inside. Use alone or with our free printable envelope.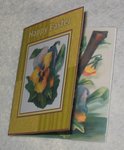 Fine Art Illustrated Easter Card
Cut out the design of your choice then fold the last third of the card to the inside, creasing the right side fold firmly. Next, fold the front cover into place, lining up the sides carefully before pressing down the left side fold with your fingers.
If desired, you can use a drop or two of white glue to hold the two back sections of the card together.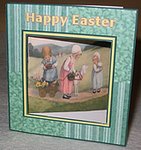 Fine Art Window Card
Follow the directions for the Illustrated Easter Card, above.
Open up the card and cut out the small illustration in the center of the front square. This can be a little tricky - use very sharp scissors or an exacto knife, ruler and cutting board for the best results.