Printable Valentine Coupons
by Adrianne Lake
It's Valentine's Day, and what better gift to give your sweetheart (or someone special to you) than these free printable Valentine coupons which are meant to pamper!
Just follow our instructions at the bottom of the page to print out all six, full-sized Valentine's Day coupons -- we have left two of them blank for you to fill in!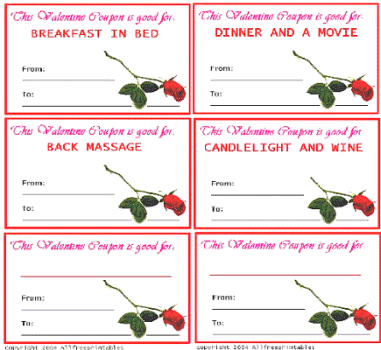 What You Do:

Click anywhere on the Valentine's Day Coupons shown above, and the page of full-sized coupons will open in a separate window, ready for printing.
Just select print on your computer - then cut out the coupons, ready for Valentine's Day giving!