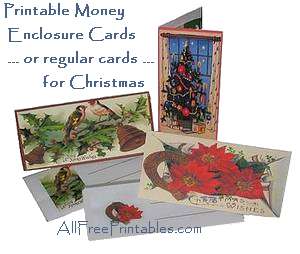 Free Printable Money Card or Christmas Card: "Merry Christmas in the Snow"
Courtesy of AllFreePrintables.com
This printable Christmas card can be used to enclose money, or cut off the enclosure flap to make a regular "Merry Christmas" greeting card. The vintage image is appealing, showing two young people carrying gifts in the snow.
Open our Merry Christmas in the Snow Card and print on your computer. Don't forget the printable envelope to fit either version of this card.

This Christmas card looks best if you cut it out just inside the black line all around the card.
For more printable cards like this one, please see Printable Greeting Cards and Money Cards for Christmas.