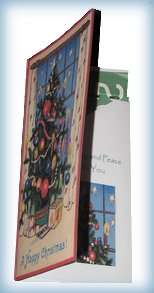 Free Printable Money Gift Cards or Greeting Cards for Christmas
Created by Jane Lake
Allfreeprintables.com All Rights Reserved
These printable enclosure cards will hold money or gift certificates - and they look like they were bought in a store when you choose high quality print format and print them on card stock. However, they also look fine printed in a standard resolution on plain paper, especially when you print the free matching or blank envelopes.
Christmas Greeting Cards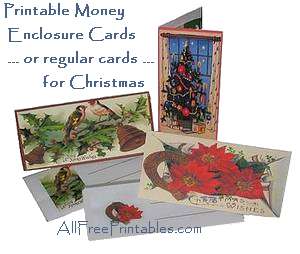 You can easily make the money cards into ordinary Christmas greeting cards by cutting off the money flap section and simply folding the card in half. Use the discarded flap to make a gift tag - just cut around it with pinking shears or fancy edging scissors!
These came about because I had forgotten to buy gifts for three teenage nieces and the family gathering with them was the next day! Money is always welcomed by the teens in my family, but I had no gift cards to enclose the cash - so I came up with these printable money enclosure cards.
I'm sure that I'm not the only one who gets caught out this way, if so, I hope these printable cards come in handy and save you a little bit of angst amid the Christmas rush. They'll also save you money - have you priced Christmas cards in the stores lately? I'd rather print my own and put the extra savings inside the card!
What You Do: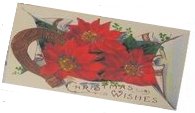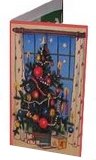 1.
Choose Your Card:
Decide which money card you would like to print. You can choose from the horizontal cards shown at left, or the vertical designs shown at right. Clicking on the thumbnail will open a new page for that card.
2.
Follow Directions on the Page:
Follow directions on each page to print the card and an envelope. This
printable envelope
will also fit any of the cards.
3.
Printer Friendly:
There is a Printer Friendly link to use on each page. You can also click on the card image on each page to access the printable version.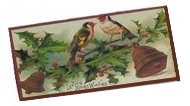 This printing arrangement should work on most computers. Use the Print Preview on your computer to test it out. If it looks like the card image is too big to print on normal-sized 8x11 computer paper or card stock, then there are a couple of options to try.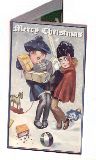 First, reduce the page margins in your page setup. Set them to zero; your computer may reset them to something else, but it should still be less than the default of 0.75 inches. Try previewing again. If this does not work, try the next step.
4.
Troubleshooting:
Download or save the card image to the My Pictures folder or another folder on your computer. Open the Paint program (found under Programs, Accessories) then click "open". Navigate to the correct folder and highlight the card file name. Open the image. Select Page Setup, then select the "Fit to" setting. Fill this in to read: "Fit to: 1 by 1 page(s)." Hit okay. Try print preview. The card should be shown as fitting on a single page. Put paper or card stock in your printer and print the card.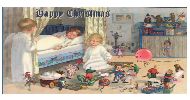 5.
For Best Results:
Most printers have a range of print quality formats. For the best colors and resolution, choose a higher quality printing option. Print the envelopes on medium weight computer paper. Card stock is preferable for the cards but if you must print on paper, opt for heavy weight paper if you have it.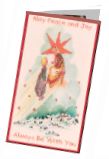 6. Cutting and Folding:

A black line outlines each card; you should cut just inside this line, so that none of it is visible on your card.
There is a light gray dash line to show where to fold the money flap; fold this to the inside of the card, lining up the sides of the flap and the sides of the card precisely.
Fold over the front of the card, lining up the sides precisely.
Make the folds firm and crisp by pressing firmly along the fold lines with a blunt object such as the handle of your scissors.
7.
Final Steps:
Cut out and glue together the envelope. Allow it to dry before inserting the card (you don't want your money to get stuck inside there forever, now do you?)
Glue down the envelope flap, address the envelope, and there you go - you can cross one more gift off your Christmas
"To Do" list!
Not sure about giving money? Enclose gift certificates for anything from coffee and donuts to sports equipment. And here's another possibility - give the receipient a personal gift of your time by writing out promissory notes or
printing some chore coupons
to enclose instead.