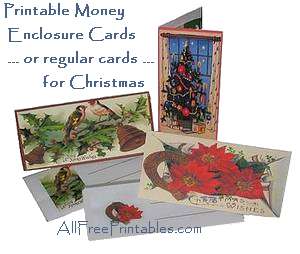 Free Printable Money Enclosure Card or "Vintage Christmas Tree" Christmas Card
by AllFreePrintables.com
An old-fashioned, decorated Christmas tree is the vintage scene on this free printable money enclosure gift card, which says "May Joy and Peace be With You" on the inside.
You may use the card as a regular one simply but cutting off the enclosure flap before folding the card.
To print, open Vintage Christmas Tree Card and choose the Print command on your computer.
A blank printable envelope to fit this card is also available.
For more cards like this one, with printing and troubleshooting information, please see Printable Money Cards for Christmas.